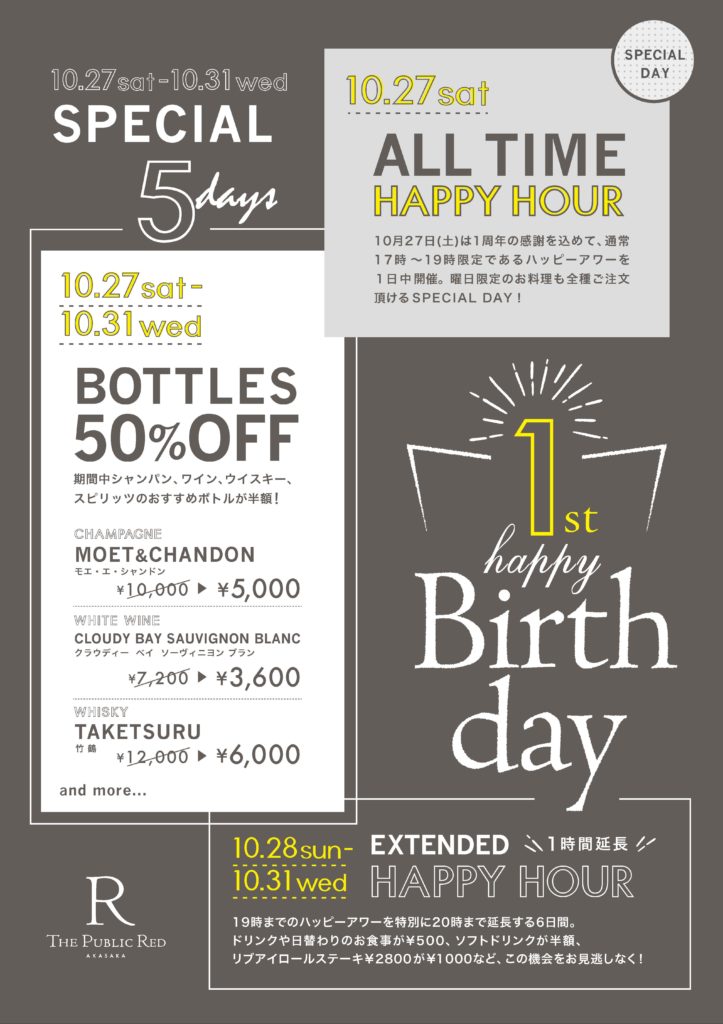 【THE PUBLIC RED AKASAKA  1st Birthday Event 】
★★  10/27 (Sat)   All time HAPPY HOUR!!  ★★
Pick up Recommended Food and Today's Craft Beer,
Hendrick's Gin, Ron Zacapa Rum, Belvedere Vodka,
Jack Daniel's American Highball and Glenmorangie Highball with Orange and
Japanese SAKE and Cocktails    All time ¥500!!!
Also, You can enjoy American rib-eye roll steak ¥2,800 → ¥1,000 !!
Let's go grab a drink with Steak!!
オープン1周年を迎える、10/27(土)に
こだわりの国産クラフトビール・ハイグレードなハイボール&カクテル・
人気の日本酒やおすすめPUBフードが1日中 ALL ¥500!!の1周年イベントを開催!
当日は、THE PUBLIC REDの看板メニューでもあるジューシーで柔らかな
「USリブアイロールステーキ」が終日¥1,000(通常¥2,800)!!
★ 10/27~10/31  BOTTLES 50% OFF!!
MOET & CHANDON 他、Wine、Japanes Whisky、Spiritsなど ボトル半額!
【Champagne】 Moet & Chandon
【Wine】 White: Cloudy Bay Sauvignon Blanc  /  Red: Cloudy Bay Pinot Noir
【Whisky】 Glenmorangie the originail / 竹鶴
【Spirits】 Hendrick's Gin  /  Belvedere Vodka
★ 10/28~10/31  1 hour Extended "HAPPY HOUR"
通常17:00-19:00開催のハッピーアワーを20:00まで1時間延長!